Successes for former elite foals!
By Gabriella Lynghed
The SWB elite auction is once again upon us and as usual we like to give a report on the success of horses selected in earlier years; how they have performed throughout this last year. The Corona pandemic plays a part as the show season has been significantly diminished both in Sweden and internationally. Many of the major shows have been affected including the World Young Horse Championships. Falsterbo Horse Show was cancelled as well as the young horse finals at Elmia and a decision was made to skip the qualifications for Breeders Trophy. However, we do have the end of the 2019 season to report from as well as a couple of months of Corona – adapted shows.
The SWB Young Horse tests, however, have been organized throughout this spring just as usual even though the season is slightly prolonged. Three former elite foals have so far qualified for the 3-year old championship in dressage: Fürst Sir received the highest score of the three with 9 8,5 8,5 and a total of 81,7%. Jura JAZ unfortunately had to scratch before the auction as he needed to have one of his kidneys removed, something he seems to have recovered well from. He was awarded in his YH test with 9's for his head, neck and body and for his canter scoring a total of 81,7 Touchstone scored a total of 80% receiving the top score of 9 for his walk. Rising Star TH received premium scoring 79,2% and a 9 for his trot. K-Mr Black Gold received premium scoring 78,3%.
Out of the 2017 year; Radius, still an intact colt received the most attention when he was approved at the Danish Warmblood stallion show in Herning. He is also the top scoring stallion in Poland where he is standing. The evaluation from Danish Warmblood specifically pays attention to his excellent type, walk and trot.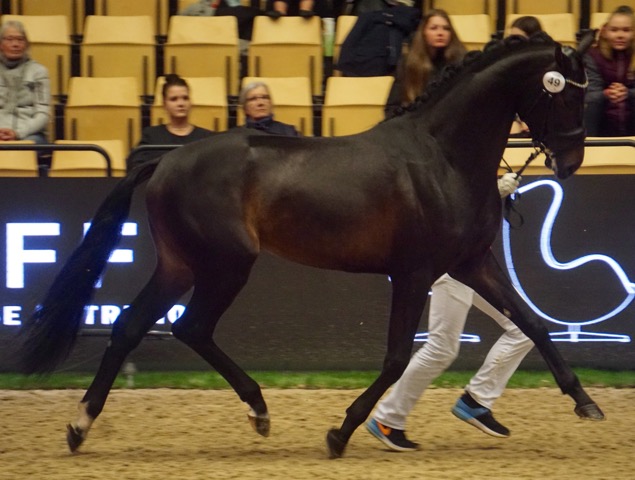 Radius. Photo: Private
Out of last year's three-year-old crop, two past elite foals made it to the final in Flyinge: Golden Eye YL placed 10th with 79,6% and Twinkle Star received a nice 76,4%. During the four-year-old season No Limit GJ has been out preparing for Breeders Trophy with 77% and a 2nd placing in the four-year-old class in Alingsås. Z MW scored 80 % at the YH test, was awarded premium and will hopefully start at this year's Breeders Trophy. Two four-year-old mares have produced foals that were presented at the foal inspections this summer: Moxie for U's colt by Vivaldon scored a whopping 85%, Flyinge Ragazza's filly by Springbank II VH scored 80%.
Of the 2015 year we have Rima that foaled a colt by Vitalis last year and is competing as a 5-year old broodmare this year. She has won in L-class with + 75% and is on par for Breeders Trophy showing in the four-year-old class. Chocolát CM won a four-year-old qualifier with 83,2% last fall and did well in the final at Flyinge. Receiving 78% she placed 11th and by that just missed the test riding final. Vividus QRE made his show debut in Denmark placing fifth with 84,2% in stiff competition in a DRF qualifier for the 5-year old championship and scored 78% in a traditional L-class. Veni Carneo F made his debut in the show ring in Denmark with 77% and a victory in L-class. On home turf First Lady VH placed third with 80% in a five-year-old qualifier, Black Magic placed in L-class with 71,5% and made the debut in the level above as well as in a 5-year old qualifier.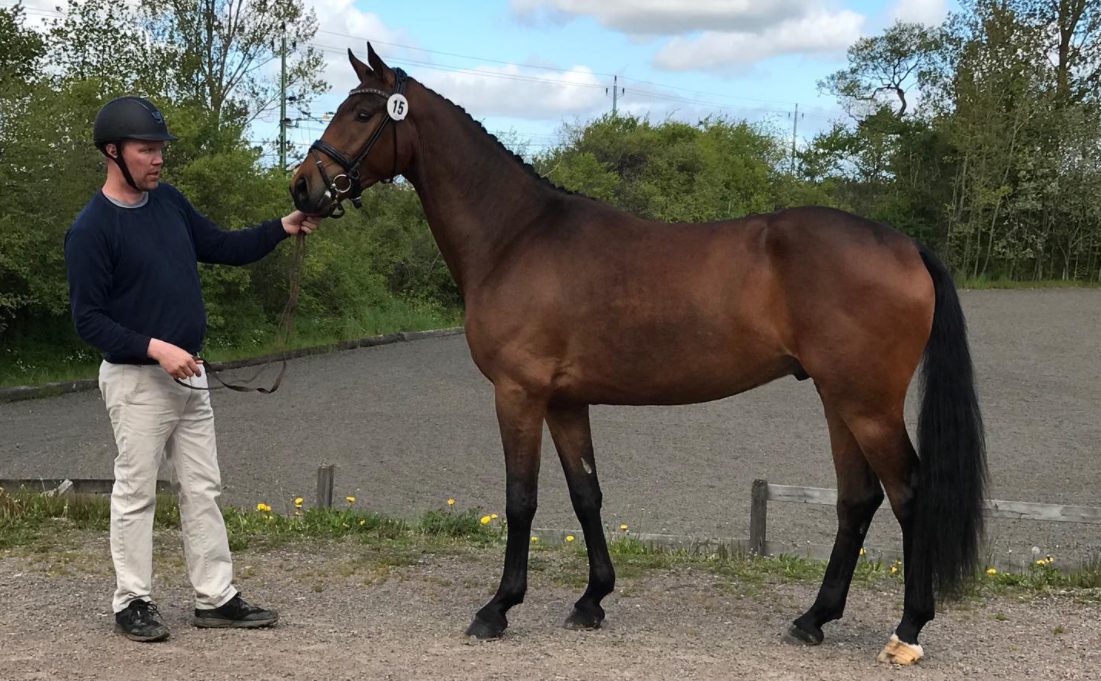 Golden Eye YL. Photo: Private
Bellemare won a qualifier in Denmark towards the end of last year's show season with 85,8% and thereby qualified to the DRF 5-year old championship. He received 79,8 % in the first round placing before the approved stallion Janeiro Platinum. Wild Wittra also competed in the DRF 5-year old qualifier last fall with 77,4 % as a result. Earlier this year she won two L-classes with 73% as the top score. Black Pearl placed 2nd in L-class with 72,3% and is entered to this year's Breeders Trophy.  Zaphira made her debut in the show ring and won an L-class.
Out of the year 2013 it is once again Mio FS, stationed in Denmark that has excelled in the show ring. He qualified to the DRF 6-year old championship and placed 5th in the first round with 87%. Two mares have excelled via their offspring: Jellybean for U has ever since four years of age produced foals scoring at the top at the foal inspections. The filly this year by Dante Weltino scored a whopping 88,9% and was the top dressage foal in her region. Langs Nicole produced her fourth foal this year, a filly by Quaterhit. Her oldest offspring by Benicio scored 83,3% at the YH test and is qualified to the 3-year old championship and to the National Mare Championship. My Dream af Sol placed in L-class dressage in Denmark and Karaca D and K-Mrs Edison have placings in L-class dressage.  The Breeders Trophy – and Falsterbo finalist Amsór THE switched disciplines; from saddle to carriage – and made his debut in L-class driving.
Last year not just one but two former elite foals represented SWB in the 7-year old championships at the World Young Horse Championships. Icing for U was also in the DRF final for 7-year old horses. She was the only mare to make the cut for the final and there placed sixth. The other representative: Valentin, has victories in M/S-class with 73,6 %. ESC Rosanna has a victory at L/M-class with +70% and a placing in M-class dressage.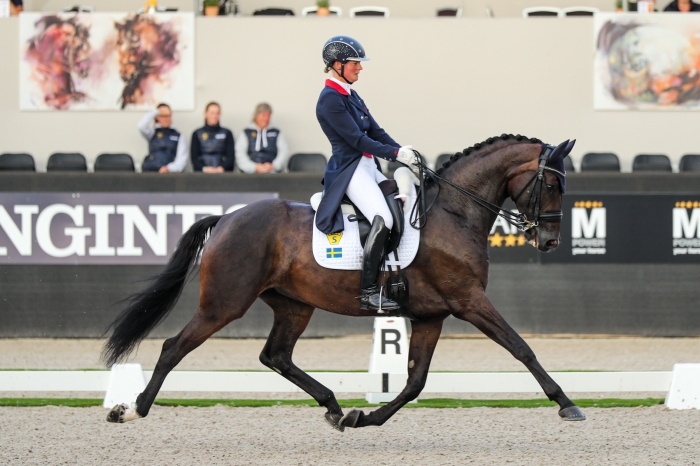 Icing for U. Foto: Pernilla Hägg
The oldest crop of foals selected for the elite auction is nine years old this year. Two horses are ridden by young riders at championship level: Attraction was in the Danish Junior Championship this year with a third placing in the qualifier and a fifth placing overall. Betty Boop has placings in M/S-class, has shown in Prix S:t Georges with 66% and is starting in the Swedish Championships for Young Riders. X-Cilent has victories and placings in Prix S:t Georges with 68%. Zandberg is competing in Holland at M-level with +70%. Igeral D has shown at M-level under Anna Zibrandtsen member of the national Danish dressage team and has an impressive record with three victories in just as many starts and with a top score of 74,6%. Tiramisu has shown successfully in Denmark with placings in M-class scoring 74,9%. Zinfandel that earlier had placings in M-class now has a new rider and continues to do well with several victories at L/M-class 72,4% and has started M-class with 67%.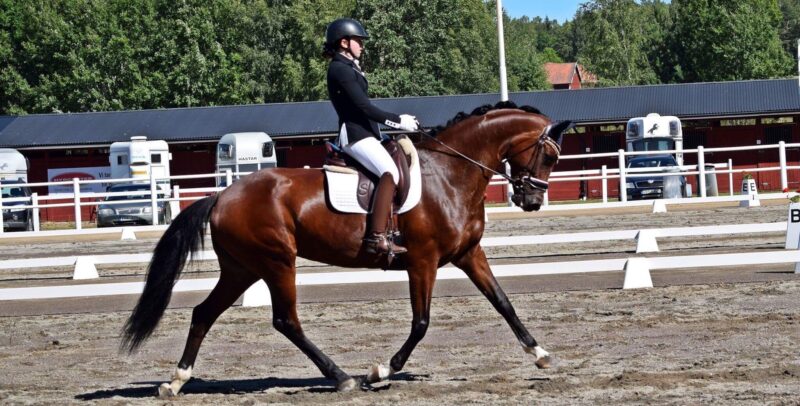 Betty Boop. Foto: BLUP
In conclusion we see that the former elite foals continue to do well and that several of the younger crowd have begun their promising career. We are excited about a third approved stallion stemming from the auction foals and we are happy to be able to see several of former elite foals at the upcoming SWB Equestrian Weeks even though this years' collection of foals has to stay put at home!
This year's SWB Elite Auction – Dressage kicks off online on the reputable auction site Horse24. Bidding is in full swing and the digital club hits the table on Saturday 26 September at 7.30 pm. Movies, photos and all information on how to place a bid can be found HERE.